Mebane's First Savings & Loan History

Mebane's First Savings & Loan, known then as Mebane Home Builders' Association, opened its  doors in 1909. Our first home was a small corner inside the Reliable Home Furniture Company Building. The institution was charted by local businessmen for the purpose of offering a safe place for members to save funds and earn interest on their money. Having survived the Great Depression of the 1930s, the Association began to grow with the housing demands following World War II.
In 1948, the Association officially changed its name to First Savings and Loan Association, a requirement for deposits to become F.S.L.I.C. insured. A  milestone was reached in 1952 as assets reached the $1,000,000 mark after 43 years in business. It was also that year that a new home was found for the institution at 124 West Clay Street.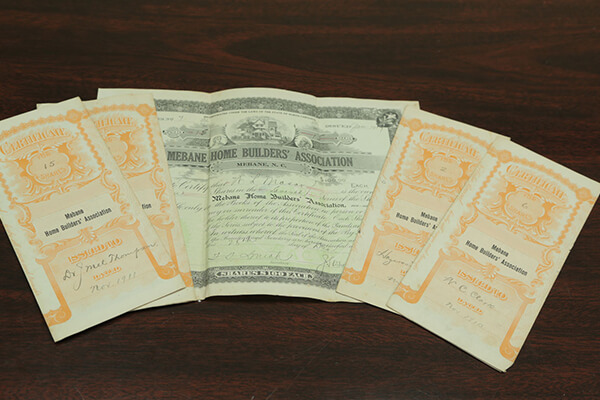 The mid-1970s saw the U.S. financial markets in turmoil. High inflation and interest rates  threatened the American dream of home ownership. The governmental deregulation of the banking industry in the early 1980s contributed to thrift failures nationwide. Despite these very disturbing times, First Savings stayed the course. The 1980s saw the beginning of a consolidation of the financial world that continues today. Mergers and acquisitions of the industry began in earnest resulting in large financial giants. Left in this wake of financial charge was the customer. Instead of making banking better for the customer, it became a bureaucracy. First Savings held onto its small town roots and continued to experience success.
The community experienced a housing boom in the 1990s. Because of this, First Savings saw unparalleled growth in purchase and construction loans. The financial world today is complex and often confusing with 800 numbers, brokered mortgages, and impersonal service offering barriers instead of solutions. It's nice to know that First Savings has not taken that road to "Financial Modernization."
Financial Stability for Over 100 Years
The decade of 2020 is here and it continues to be a time of change for First Savings, the financial world, and for the city of Mebane. It's nice to reflect back and see how much things have changed. But it is also refreshing to see that some things still remain the same. No one has ever lost a penny deposited or has failed to receive interest.